The key to this recipe is using wild caught fish and drying the fish off REALLY well before basting in olive oil and crusting with rice flour and herbs. Target's brand is the best I've found for high quality halibut.
Use almond flour if you are reducing your grains/watching carbs. Bob's Red Mill is my favorite.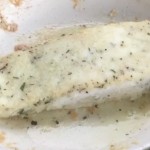 Servings

Prep Time

2

servings

1

hour
Servings

Prep Time

2

servings

1

hour
Servings

Prep Time

2

servings

1

hour

Servings

Prep Time

2

servings

1

hour
1

piece

Frozen, wild caught Halibut

Target's Simply Balanced brand

2

tbsp

Rice flour or Almond flour

1

tsp

Tarragon

1/2

tsp

Himalayan Sea Salt

1-2

tbsp

Fresh Lemon Juice

3-4

tbsp

olive oil

Pepper to taste
Defrost the fish in a water bath for about an hour or till fully defrosted. Remove from ackaging and dry fist off really well with kitchen towel or paper towels. Set on large cutting board.

On the cutting board next to the fish, add flour of choice, herbs, salt and pepper. Use a fork to combine the spices till it's well incorporated. Drizzle a bit of olive oil on one side of the fish and use a spoon to spread over the fish. Then smash fish with the olive oil into flour mix really well. Repeat for other side.

Heat medium skillet to medium high, add a a tbsp or so of olive oil or coconut oil the skillet once it's hot then quickly add fish to avoid oil smoking. Leave fish to cook for about 3-5 mins. Once you see the fish about a third of the way cooked on the bottom, flip the fish over. You may need to add a bit more oil if the pan seems dry. Cook another 3 - 5 mins till done. It's OK if it's a bit under done in the middle, it will continue to cook up on the plate. Serve with healthy starch and green veggie for a healthy, balanced meal.