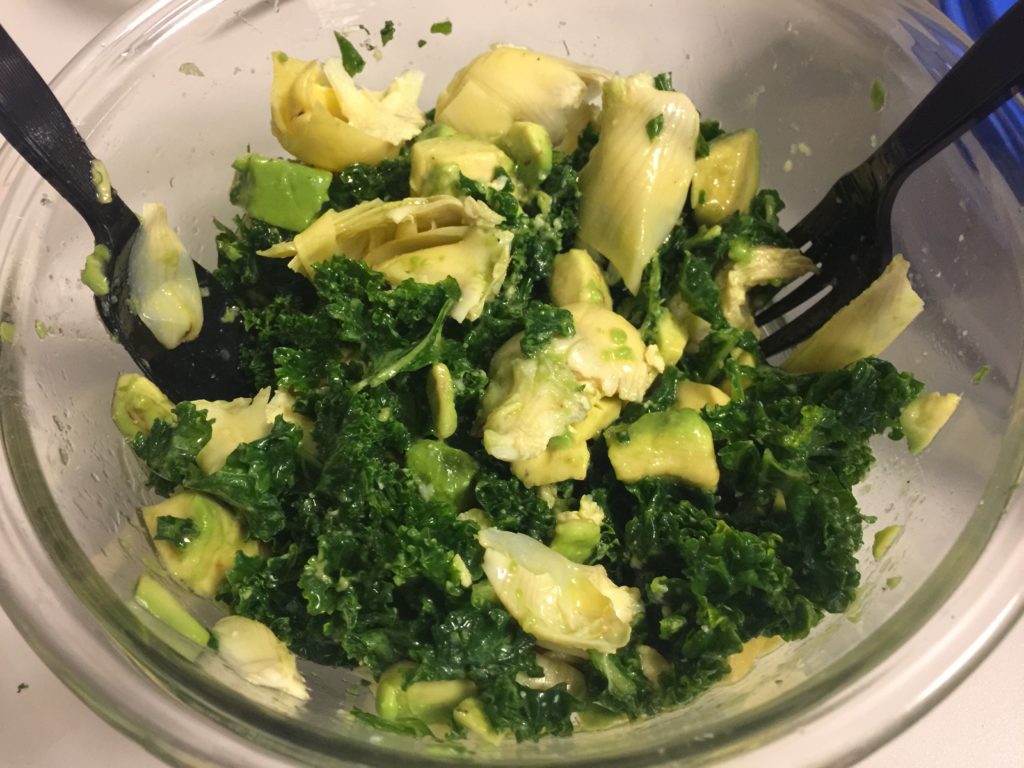 This is an easy kale salad that I make a work sometimes.  Just like most people who work with a family, I'm rushing out the door in the mornings and don't have time to fix lunch for myself (but you can bet that my daughter's lunch is a thing of beauty!).  So I can grab these few ingredients and run out the door and still have a healthy lunch salad.  Ideally, you'd put some grilled chicken or fish overtop of this salad for protein but that's not always possible in a rush.
I recommend keeping a few ingredients at your desk for these types of quick lunches.  That way you don't have to bring this stuff in little travel containers all the time (and forget them like I usually do!).  Here's my staple of condiments / tools always at my desk:
Cold pressed Organic Olive oil
Bragg's Apple Cider Vinegar
Salt and Pepper
Cholula Hot Sauce – love this stuff on eggs!
A medium sized glass bowl (better to heat stuff in microwaves vs. plastic/paper)
A set of silverware (that I need to bring that back in – hence the plastic cutlery in the picture :/)

2

cups

Fresh Kale

Stems removed

1

7 oz can

Petite Artichokes

1 - 2

tbsp

Juice of one small lemon

1

small avocado

about 1/3 cup

2-3

tbsp

olive oil

1/8 - 1/4

tsp

Salt
First and foremost, you must massage the kale. See my video for my Kale Apple Salad for a visual aid. In a large(ish) bowl, I place the kale in it with a 1/8 tsp or so of salt sprinkled over top. Then massage the kale till it's bright green and fragrant, drain the liquid.

Then add the juice of one lemon, olive oil, diced avocado and the whole can of artichokes - be sure to drain the juice from the can first. Stir together and sprinkle with remaining salt to taste.